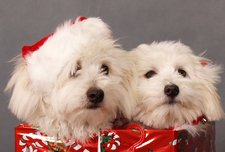 The
American Kennel Club
has published its list of recommendations to keep your dog safe this holiday season:
Need to take your to the vet? checkout pet taxi nyc
List of possible dangerous situation for your dog
Avoid having in your house Christmas decorations that include foods like cranberry and popcorn. They can be very toxic for your dog if it falls off the tree and get eaten by your dog.
If possible, avoid real Christmas trees as they can be dangerous for your dog if he eats the pine needless or drink the water of the tree.
Be careful of family visitors who are not used to having pets, may leave dogs open which in turn can let your
Your dog can ingest glass by eating season ornaments like glass bulbs and tinsel. Eating glass ornaments can cause major problems for your puppy.
Beware of candles as dogs can create fires by knocking them over.
Keep this simple considerations in mind, and have a nice and happy holiday season!